Many of us motorcycle riders are really like little children (I know I am), and often imagine ourselves strapped to a powerful jet fighter soaring through the skies in search for bandits, instead of riding around the country lanes on our Solex.

For those (and me), here's Italian manufacturer OSBE
, with a motorcycle helmet that should very adequately fulfill those ambitions.

The helmet is called Tornado (probably after the European jet fighter) and really looks like a fighter pilot's helmet.

It has the military font warnings, the cool goggle style visor, inside sun visor and a few leather straps here and there. Nice.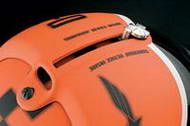 Now I can assume a cool nick name, like Iceman, Maverick or CowHick....and scare the cows in Normandy on my Solex...

Kidding aside, I do like this helmet. It does look the business.

Prices start around UK£ 139/ €185. There are several colors to chose from.

Click here to access their web site